News from FAIB
The registrations for the EUROPEAN ASSOCIATION SUMMIT 2021 - 20-22 April 2021 - are now open!
As every year, the FAIB is presenting a session at the EAS. This year's session is scheduled on Wednesday 21 April from 09:45 to 10:30.

This year's presentation will focus on "The never ending story – Belgian association and foundation law (CAC) changes again…" with guest speakers examining the subject from different angles.

Speakers: Ruth Wirtz, Osborne Clarke, Antoine Druetz, EY Law, Alain Costantini, DKW (represented by Ms Lauranne Pauwels), Ludwig Forrest, Fondation Roi Baudoin, moderated by Adrian Harris, FAIB President.

REGISTRATION OPEN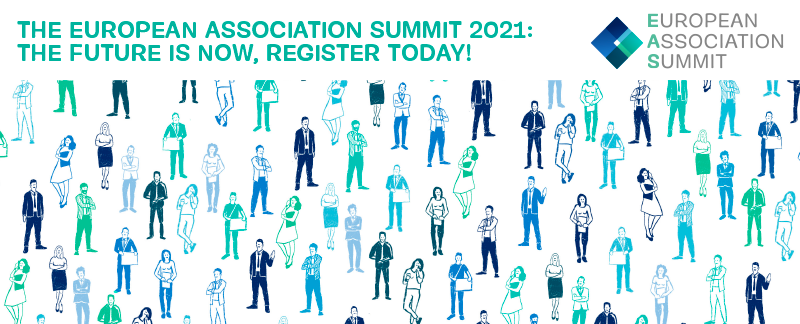 Foster innovation within your organisation and enhance your relationships with the association community thanks to this year's online EAS.

Be part of the European Association Summit and take your association into

the future NOW!

Why do associations need a digital marketing plan? What are the practical steps to design a virtual event? Where lies the art of building a successful revenue strategy? Which are the critical skills needed by association managers for effective business planning & delivery? What is the best way to prepare for the European Green Deal calls for associations?

Start looking for answers by checking the details of our programme.

Join us at the European Association Summit and contribute to the development of the association community with your interactive presence.

Join the EAS 2021 to learn and bring your own experience to the association community, adding to its strength and diversity. Together, we can achieve new horizons! Join us for the event and benefit from an early bird rate until 14/03.

We are looking forward to meeting you in April!

The EAS 2021 team  

Follow us and engage through #EAS2021 #EASBrussels on social media